Dog Outdoor Kennel
The dog outdoor kennel can be finished within one hour, for it is easy to assemble with quick connect frame and roll out chain link. The roof can protect dogs from bad weather, sun and rain. The cage can provide a happy and safe room for your pets.

1. Manufacturer wholesale with competitive price.
2. Color, size, style can be customized.
3. It is dog friendly, no sharp edge is included.
4. This kennel provides a spacious room and plenty of fresh air for your pet to exercise and enjoy.
5. With roof to protect pets from bad weather, Scorching sun and rain.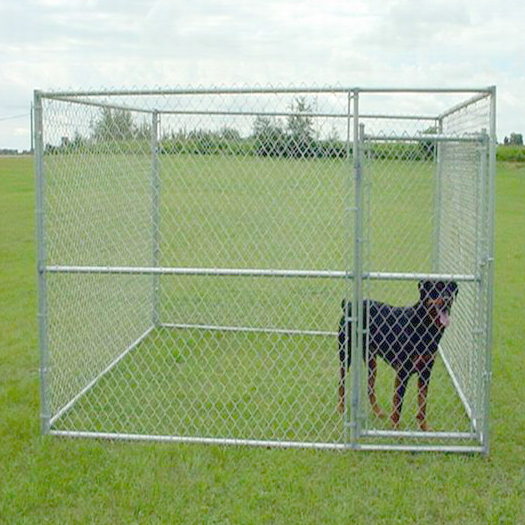 Size of Dog Kennel cage:
Size




6`H×10`L×5`W

Wire diameter: 2.3mm


Mesh size: 60x60mm


Frame tube size:

32 mm O.D.×0.8mmwall thickness


Surface treatment:

Hot-dip galvanized


Package: cartons

6`H×6`L×5`W

6`H×10`L×5`W

6`H×10`L×6`W

6`H×6`L×4`W

6`H×7.5`L×7.5`W

6`H×10`L×10`W

6`H×4`L×4`W

6`H×15`L×5`W

4`H×10`L×5`W

4`H×5`L×5`W

4`H×7.5`L×7.5`W

7`H×10`L×5`W

Customized is always welcome

1) Dog Kennel set-up in less than 30 minutes
2) Provide containment for your pet that is permanent
3) Especially fitted for larger breeds
4) Offering full access to the open sky
5) All components are attached with screws, Easy to assemble and portable enough to be easily repositioned.
6) No sharp edges to stab or scratch
7) High secured lock systems for more safety
8) Designed around the safety, security and comfort of your dog.

Anping Enzar Metal Products Co., Ltd. is a specialized manufacturer and exporter of metal and wire mesh

products started from 2007. Our manufacturing activities can be tracked back to more then ten years ago.
The main products we are producing can be listed as follows.
-Welded Mesh Fence
-Welded Wire Mesh Sheet
-Welded Wire Mesh Roll
-Welded Steel Grating
-Woven Wire Mesh
-Steel Fabrications
Kategori Produk : Kennel Anjing